Salvo now in the running for one of New Jersey's three Regional Superintendents of the Year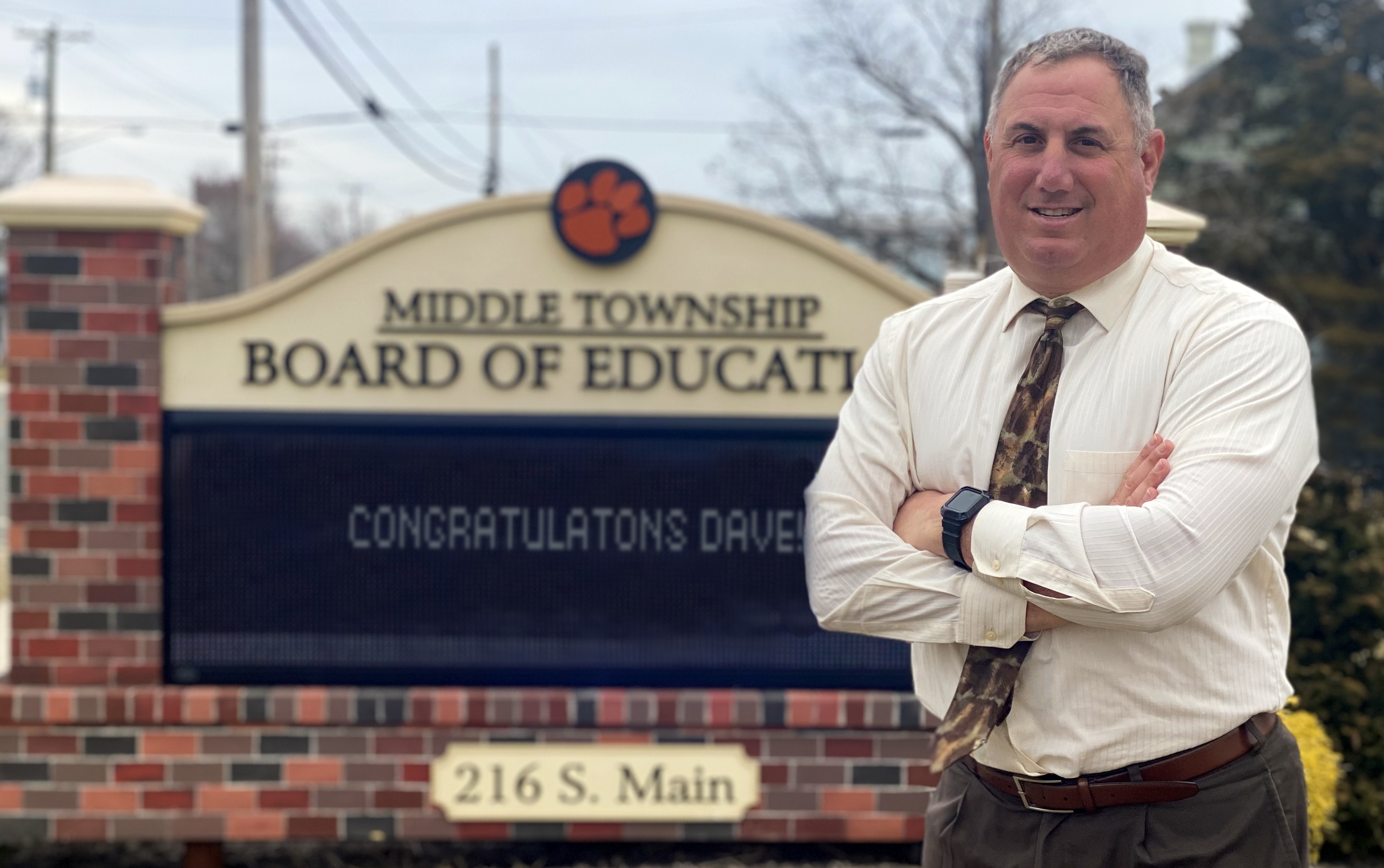 CAPE MAY COURT HOUSE, NJ – Middle Township School District Superintendent David Salvo, Ed.D. has been named Cape May County Superintendent of the Year.  He is now in contention for one of three Regional Superintendents of the Year from the New Jersey Association of School Administrators (NJASA).
Salvo has been Superintendent in Middle Township since 2014, and formerly served as the district's Assistant Superintendent of Support Services.  A graduate of Glassboro State College (Rowan University), Salvo joined the Middle Township School District as an assistant principal in 1995.  He has built a solid career as a highly regarded educator, committed to the students, families and communities the district serves.
"Assisting in the changes of the academic culture in our district has been one of our biggest accomplishments," said Salvo.  "I'm very proud of the variety of programs we have in place to meet the needs of our diverse student population.  To see the district change and grow through the years has been very rewarding, especially when you see the students thriving.  That's what it's all about."
During Salvo's time at the helm, Middle Township formed a partnership with Atlantic Cape Community College that allows students to earn college credits for a fraction of the cost while still in high school.  Through another community partner, Cape Assist, the district opened South Jersey's only recovery high school, Coastal Prep.  One of only three facilities of its kind in the state, Coastal Prep provides students a safe, non-judgmental environment where they can continue their education and receive support while in recovery from substance misuse.
The district also grew under Salvo's leadership after passing two major bond referendums to upgrade and build school facilities. Salvo is currently leading a complete refresh of all district websites as part of his continuous quest to provide valuable resources.  "A constant goal is to always seek better engagement with the community," he said.  "In this social media-driven world, information is instantaneous, and communication is constant.  Improving the modalities on how we engage with the community and our stakeholders will benefit us all for years to come."
Salvo is humbled by the recognition as Cape May County Superintendent of the Year, particularly after navigating a challenging two years.  He credits the community for helping the district persevere through the pandemic.  "The only way to be successful when you're facing adversity, Covid for example, is for everyone to believe, understand and implement the school's core values," he explained. "These beliefs and values are the guiding principles that lead us through tough and good times. It is my responsibility to regularly articulate our district's core values and apply them to whatever situation we are working through."
"We are thrilled that Dr. Salvo is being recognized for a trait we've known all along – being a great leader," said Middle Township Board of Education President Dennis Roberts. "It's been a privilege to serve this district with Dr. Salvo leading the way.  He's engaged and isn't afraid to forge new paths to support our students and provide them with the best academic, extracurricular and well-rounded experiences."
"This is a well-deserved honor for Dave Salvo," added Mayor Tim Donohue. "Middle Township students are fortunate to have such a caring and forward-thinking leader. The school district is a big part of what makes Middle Township a great place to live."
In previous years, the Regional Superintendents of the Year have been announced in September.  One of those three administrators will then go on to be named New Jersey Superintendent of the Year.
"This recognition is more about the support I have received from family, lifelong mentors, fellow Superintendents, Board of Education members, staff and students than it is about me individually," said Salvo.  "I have been blessed to have a very supportive Board of Education, especially Board President Dennis Roberts who affords me the support and opportunities to lead this district."
Born and raised in Hammonton, NJ, Salvo, 53, lives in Ocean View with his wife, Jennifer.  Their blended family includes six children: Olivia, David Jr., and Luke, Kiera, Cassie and Colin.